Chevrolet Tahoe RST 2018
Новые Chevrolet Tahoe и Suburban: ещё больше, теперь с независимой задней подвеской и дизелем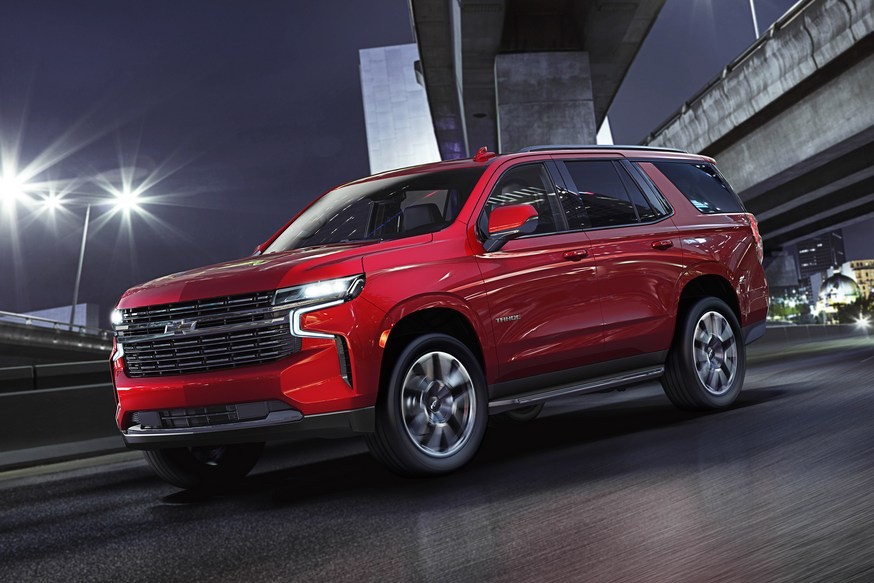 В Штатах состоялась премьера полноразмерных внедорожников Chevrolet нового поколения. Машины преобразились как внешне, так и внутри, есть значительные изменения и по части техники. Кроме того, был расширен список доступного оборудования.
Рамные Chevrolet Tahoe и Suburban предыдущей генерации вышли на рынок в 2014-м (для первого внедорожника это четвертое поколение, а для растянутого варианта – уже одиннадцатое), последнее более-менее серьезное обновление они пережили в 2018-м. Прошлый год обе модели в США закончили в «плюсе»: Tahoe разошелся по стране тиражом в 104 103 экземпляра (+5%), выбор на Suburban остановили 60 633 клиента (+7%). Вездеходы 2021 модельного года имеют все шансы упрочить свои позиции.
В Chevrolet заявили о том, что в основе Tahoe и Suburban лежит «новая архитектура», но платформу никак не обозначили. Очевидно, модели сменили «тележку» K2 на T1, как и стартовавший в прошлом году пикап Silverado последней генерации. Также известно, что у вездеходов теперь более прочная рама, к тому же они подросли. Длина Tahoe-2021 составляет 5352 мм против 5182 мм у предшественника, колесная база увеличена на 125 мм до 3071 мм. У нового Suburban длина равна 5733 мм (+33 мм по сравнению с прежней моделью), расстояние между осями – 3406 мм (+104 мм).
У новых Tahoe/Suburban появилась независимая задняя подвеска, тогда как у предыдущих моделей неразрезной мост. Базовые свежие внедорожники имеют пружины, богатым версиям по-прежнему положена адаптивная подвеска Magnetic Ride Control и – впервые – пневматическая подвеска, меняющая дорожный просвет в диапазоне 102 мм.
Переднюю часть внедорожников сделали в стиле родственного Silverado: вместо «двухэтажной» оптики отныне узкие светодиодные фары, под которыми расположены светодиодные же «подковы» дневных ходовых огней, бампер стал агрессивнее. Задние фонари тоже заменили, хотя они все так же вертикальные. На багажной двери теперь красуется широкая хромированная плашка. Особенности «спортивного» варианта RST – черные решетка и эмблемы марки. У внедорожной версии Z71 – своя решетка и более короткие свесы. Для моделей предусмотрены 18-, 20- или 22-дюймовые диски.
Салон тоже полностью новый, главные «фишки» — мультимедийная система с возвышающимся над передней панелью экраном и кнопочный «автомат», причем клавиши разместили не на тоннеле, а на центральной консоли, справа от рулевого колеса. А вот виртуальная «приборка» внедорожникам не досталась. Внутри стало просторнее: в Tahoe пространство для ног между вторым и третьим рядами выросло на 40%. Кроме того, у этой модели минимальный объем багажника теперь составляет 725 л вместо прежних 433 л, со сложенными спинками второго и третьего рядов – 3480 л (было 2682 л). У нового Suburban – 1161/4078 л (ранее – 1104/3426 л). А еще у сидений второго ряда появилась продольная регулировка – как у трехместного дивана, так и у отдельных «капитанских» кресел.
В списке оборудования Tahoe/Suburban также значатся: проекционный дисплей, планшеты для задних пассажиров, панорамная крыша, камеры кругового обзора (9 штук, в том числе и выносная для прицепа), системы автоторможения, автоматического переключения света фар, мониторинга «слепых» зон, удержания в полосе движения, предупреждения о появлении пешеходов сзади.
В моторную гамму вошел дизель – это турбированная рядная «шестерка» Duramax 3.0 от пикапа Silverado. Мощность – 281 л.с., максимальный крутящий момент – 623 Нм. Отметим, до этого дизельный мотор был лишь у Tahoe первого поколения. Бензиновая линейка представлена модернизированными «атмосферниками» V8 5.3 (360 л.с., 519 Нм) и 6.2 (426 л.с., 623 Нм) с непосредственным впрыском топлива и системой отключения половины цилиндров при низких нагрузках. Все двигатели сочетаются с десятиступенчатым «автоматом». В «базе» у Tahoe и Suburban задний привод, более дорогим версиям положен полный привод с муфтой в приводе передних колес и понижающей передачей.
Производство внедорожников нового поколения наладят в Арлингтоне (Техас), то же предприятие выпускает прежние Tahoe и Suburban. На американский рынок новинки выйдут в середине 2020 года. В России продают только Tahoe, до нас свежая версия, видимо, доберется либо к концу следующего года, либо в 2021-м. Нынешний «американец» в РФ обойдется минимум в 3 690 000 рублей.
Между тем родственники Chevrolet Tahoe и Suburban тоже скоро сменят поколение – к дебюту готовятся новые GMC Yukon и Cadillac Escalade. Кстати, дизайнер Kolesa.ru уже представил, как может выглядеть флагманский Кадиллак.
Для комментирования вам необходимо авторизоваться
2018 Chevrolet Tahoe RST Premier Review: The Best Tahoe, at the Worst Price
A bigger engine, better suspension, improved brakes, and a boss exhaust are all great. but at what cost?
Welcome to Critic's Notebook, a quick and off-the-cuff car review consisting of impressions, jottings, and marginalia regarding whatever The Drive writers happen to be driving. Today's edition: the 2018 Chevrolet Tahoe 4WD Premier RST.
It's hard not to be a a little taken with the Chevy Tahoe RST Performance Package, at first glance. It's a parts-bin special done right, as only General Motors could do it: a Tahoe outfitted with the bigger 6.2-liter V-8, GM's trick Magnetic Ride Control shocks, the sweet new 10-speed automatic transmission, and an aggressive body kit, among a few other lower-key goodies. (Note: For the sake of brevity, the "RST Performance Package" will be referred to as just "RST" for the rest of this review, even though GM also offers a separate "RST Edition" that's basically just the cosmetic options on the SUV's Premier and LT variants.)
But that was until I saw the big, bold price in the last column of the window sticker: $78,450, as tested.
That's enough to buy a brand-new Chevy Camaro SS and a new Chevy Traverse, if you wanted to fill your garage with 6.2-liter V-8 power and have an all-weather seven-passenger hauler. Or it's enough to take home a nearly-loaded Cadillac CT6—one with the twin-turbo 400-horsepower engine and AWD, the bougie Rear Seat Package, and the groundbreaking SuperCruise autonomous driving assist system. Or, for less than $2,000 more—just 2.5 percent more cash—you could drive off in a new Corvette Z06 capable of blasting from 0 to 60 in less than three seconds and topping out above 200 miles per hour. And that's all within the GM family.
More pointedly, however, $78,450 is also enough to take home a nicely equipped four-wheel-drive GMC Yukon Denali, or even a new 4WD Cadillac Escalade. (Granted, it'd be a stripper, but it's not hard to make the argument that stripper Cadillac > loaded Chevy.) Both of those, incidentally, also come standard with the 6.2-liter V-8, the 10-speed automatic, and Magnetic Ride Control.
Go outside General Motors to cross-shop SUVs, and the choice becomes even more outlandish. If you're just looking for an ass-hauling seven-seat SUV with a mean V-8 roar, you can grab a fully-loaded Dodge Durango SRT—a rig that runs a 12.9-second quarter-mile—for less than $75,000. If you want space, effortless power, and a nice interior above all else, the Lincoln Navigator's nicely-equipped Select trim starts at a hair over $78,000 in 4×4 form. Hell, you can drive home in a well-optioned Mercedes-Benz GLS450—one with massaging heated leather seats, no less—for almost the exact same price as the Tahoe RST.
At that price, making the case for a Chevy SUV—even one with all the best parts of the corporate parts bin aboard—requires some Cirque du Soleil-level acts of mental contortion. Well, we only have room to park one car in the driveway. and I really want the big engine and the cool exhaust. but I don't want Bob and Sally down the street to think we're were "too good" for them because we got a Cadillac, they're already pissed enough at us for not coming to Tommy's fourth-grade graduation party. but seriously, who has a party for a fourth-grade graduation, there's still another year of elementary school left, it's not even actually a graduation for chrissakes.
But that doesn't mean this Tahoe is a bad ride by any means. In fact, like the all-new Ford Expedition, it's a testament to just how well American carmakers have mastered the full-sized SUV.
The Pros:
Damn it, but the Tahoe RST does drive well. Even with the truck riding on 22-inch wheels, the MagneRide smooths over bumps with ease; likewise, the 6.2-liter ladles out the power with such fluidity, you'd never suspect it was pushing around close to three tons. Even half-throttle is enough to launch an aggressive passing maneuver on the highway.
The new 10-speed automatic is a marked improvement over the old eight-speed slushbox still found in the likes of slushbox-equipped Corvettes (and much of the rest of the Chevy lineup). Much like the closely-related gearbox found in the 2018 Ford Mustang, it flips through its gears crisply and efficiently, often skipping over intermediate cogs as needed.
General Motors dropped the Tahoe off the day after Winter ShitStorm Grayson, a day with temperatures down in the teens and the better part of a foot of crunchy, dirty snow clogging up the curbs and sidewalks of Brooklyn. I'd debated having them cancel the loan, on the grounds that I'd likely wind up stranded like an upside-down turtle if I tried to crawl over the crud and into a parking space. But that was the part of me not used to spending time with giant, four-wheel-drive SUVs. With the 4WD system set to Auto, the RST easily clambered over the icy debris time after time, even with all-season tires in place of the winter rubber that really ought to be standard this time of year.
Great controls—simple, intuitive, and ideal for use while driving. Most of the important things you'll adjust most often—volume, radio tuning, temperature—are controlled by big, rubbery dials whose location quickly becomes muscle memory.
Clad in black paint with matching black trim—the sort of look improperly-educated automotive journalists might have once described as "murdered out"—the Tahoe RST stood out in damned menacing fashion, even amongst the fleet of livery-driven TahoeBurbanScalades clogging up New York's streets. So equipped, it looks like The Ultimate Cop Truck—the sort of hero car Jack Bauer would spend much of his time racing across Los Angeles in during one of those bad days of his.
The Cons:
For a truck with a Borla exhaust connected to 6.2 liters of smallblock, it doesn't sound all that exciting. The noise that is there is pleasing to the ear—a seismic rumble that rips in pitch up every time the 10-speed shuffles down a few cogs to make a pass—but there's not nearly enough of it for a truck that purports to be a factory-made badass.
For such a giant truck, the interior seems a might cramped. Smaller adults—especially those who are short of limb—will likely be satisfied with the second row captain's chairs, and children young enough to still find the opposite sex icky will be fine in the third row's bench. But someone of my NBA-like size will likely want to call shotgun every chance he or she gets. (Or, y'know, drive the thing.)
The slightly-offset steering wheel will send anyone with O.C.D. into fits.
Again, not to harp on this, but it's a Chevy Tahoe that costs as much as Cadillac's flagship.
Then I spent 20 minutes drifting around this building in the empty parking lot.
The Chevrolet Tahoe RST, Ranked:
Performance: 3.5/5
Comfort: 4/5
Luxury: 3/5
Hauling people: 4/5
Hauling stuff: 5/5
Curb appeal: 4/5
"Wow" factor: 2/5
Overall: 3.5/5
The Bottom Line:
This may be a bit of stereotyping, but I wouldn't be shocked to see the Tahoe RST sitting in the driveway of every Chevy-sponsored NASCAR team driver by the end of this time next year. Its combination of an utter lack of pretension, high-performance features, dominating size, and legitimate four-wheel-drive capability seem perfect for folks with money who need a ride that can handle everything from towing to long road trips to shuttling people about town—yet wouldn't be caught dead in a Lexus or a Lincoln.
But unless you happen to occupy the middle ground of that very specific Venn diagram of "People who can afford an $80,000 car" and "People who are desperately worried about looking conceited," there are plenty of other SUVs and crossovers out there that offer greater capability, luxury, size, or style for the cash—many of them located within GM's very lineup.
Now, if Chevy let us lob the $8,245 bundle of RST Performance Package parts onto the $47,000 Tahoe Custom. well, then we'd be talking.
2018 Chevrolet Tahoe RST First Drive
With more of everything, Chevy's Tahoe RST is a delightful lesson in excess
2018 Chevrolet Tahoe RST First Drive
"When the angel on your shoulder says SUV, but the devil says horsepower, you want the Tahoe RST."
More Horsepower
More Torque
More Gears
More Suspension
More Brakes
More Money
Less Cargo Space
Half of all full-size SUVs sold in America are Chevy Tahoes or Suburbans. They're the top two best-sellers in the admittedly limited segment. That goes to well over half when you throw in the closely related GMC Yukon and Cadillac Escalade. If you're shopping for a full-size body-on-frame SUV, General Motors pretty much owns the market.
The RST is Chevrolet's first true hot rod Tahoe. Two option packages turn a top-trim Tahoe Premier into an RST. But when you tick the right boxes, the ordinarily staid Tahoe turns into a mighty machine with Chevy's best 6.2-liter V8 tuned for 420 horsepower, 460 pound-feet of torque, a 10-speed transmission, magnetic ride control suspension, Brembo brakes, and a Borla exhaust.
All that kind of leaves the other full-size SUVs in the dust. The Tahoe competes head-to-head with the Ford Expedition, Nissan Armada, and Toyota Sequioa. Let's assume for the moment that the GMC/Cadillac, Lincoln, Infiniti, and Lexus editions aren't really in competition with their economy brand cousins.
The 2018 Chevrolet Tahoe starts at a base price of $48,745, which gets you a 2WD Tahoe with the 5.3-liter V8, not the fire-breathing dragon you want. When you go Premier trim and add the two RST packages you can get into the RST for $68,775, but that's still only spinning the rear wheels. Suitable for drifting, but still not the SUV you want. With all the goodies, you're looking at a cool $78,155 to drive away in the baddest-ass Tahoe that ever was. That's the one we tested.
Interior and tech
As the top of the line Tahoe, you get pretty much everything in the RST. Sitting in the capacious driver's seat, you'll find adjustable pedals so that any human adult from the 5 th to 95 th height percentile can drive this rig. All the driver assistance tech is there, too. You get forward collision alerts with automatic low-speed braking, lane keep assist with a helpful (or not) warning that the massive Tahoe is getting close to the Botts Dots again, blind spot warnings with lane change alert, rear cross traffic alerts, a rear-view camera, and GM's Stabilitrak stability control – which will come in handy with the RST.
The infotainment system is nothing you haven't seen before unless you've never been in a GM product for the past few years. You're fondling the 8-inch version of Chevrolet's MyLink navigation and audio system, with support for Apple CarPlay and Android Auto. Additionally, you've got the ability to get an AT&T 4G/LTE data plan for the Tahoe, with the ability to create a Wi-Fi hot spot in the vehicle. A single-screen rear entertainment system is part of the Sun and Entertainment package, along with a sunroof. As a rule, Chevrolet does a good job with MyLink. It's easy to use and does the job. An extra $850 on the option sheet gets you a head-up display for driving and navigation data and an all-video 8-inch driver information center.
By the time you're at the Premier trim level, the Tahoe is very luxurious. The RST we drove came with the Jet Black interior, with perforated leather upholstery in front and plain leather in back. The front seats are both heated and ventilated, and the outboard rears are heated. The third row is there if you want it, and adults can actually ride back there. The Tahoe configurator gives you the chance to choose between an eight-passenger configuration with a bench seat in the second row, or a seven-passenger setup with two bucket seats in the second row. This is really nice unless you just have to be able to carry eight people. This is pretty standard for full-size SUVs. All the competing brands offer eight passengers, and technically, you can put nine people in a Tahoe, but you have to order the front bench seat in the base trim.
With all three rows of seats in use, you'll still get 15.3 cubic feet of cargo space behind the third row, or about what you get from a mid-size sedan. With all the seats folded flat – and they do fold very flat – you'll have 94.7 cubic feet, otherwise known as "plenty." This is one area where the Tahoe doesn't lead, and in fact it's the smallest of the competitive set. The Armada gives you 97.1 cubes, the Expedition is in at 104.6, and the Sequioa offers a cavernous 120.1 cubic feet, which is about what the longer Chevy Suburban or the Expedition Max will give you.
Driving experience
The main thing you need to know about the Tahoe RST is that it comes with GM's direct-injected 6.2-liter small block V8 engine, tuned for 420 horsepower and 460 pound-feet of torque. By itself, that's not such a big deal. The Expedition offers 480 pound-feet and 400 horsepower in its top trim, and that's from the EcoBoost 3.5-liter V6. All the vehicles in this class have 380-420 horsepower, but only the Ford and the Chevy have the torque.
The new 10-speed automatic transmission, first released on the ZL-1 hot rod Camaro, is critical for performance. Chevy's truck engineers have reworked the gearbox, fitting the Tahoe with gear ratios appropriate to the task of moving the big iron. With 10 speeds to use, the Tahoe gets great acceleration in the lower gears, and low-RPM highway cruising at the top. The best thing about the 10-speed box, however, is how smoothly and effortlessly it shifts. You can ignore it and simply concentrate on enjoying the ride.
Your 0 to 60 time is 5.7 seconds, or roughly comparable to a Maserati Levante
The Tahoe RST is fun off the line. Your 0 to 60 time is 5.7 seconds, or roughly comparable to a Maserati Levante or a '63 Corvette Stingray. While that's good, it's not outside the envelope for the competition. The Ford Expedition offers a comparable package with a 10-speed box and 5.7 seconds to 60 MPH, and the Nissan will do 5.9 seconds. Only the Toyota is a full second slower at 6.7 seconds. Top speed is not known outside GM, but it's surely faster than you really want to be driving on public roads.
There's more to performance than the drivetrain, and Chevy has not disappointed. The Tahoe RST gets the magnetic ride suspension first developed for the Corvette, and it's nothing short of wonderful. There are no driver-adjustable settings in the Tahoe – it's all automatic, but the suspension responds to weight and conditions to keep the Tahoe level and smooth-firm at all times. This feature is unique to the Tahoe and other GM products. The active suspension is nice at all times, but really makes towing much more comfortable. The Tahoe RST can tow up to 8,400 pounds, which will handle most people's needs.
You also have the option (for $2,795) to select the optional Brembo big brake kit, which gets you a pair of bright red six-pot fixed front calipers grabbing massive 16.1-inch rotors. That kit offers an 84-percent increase in swept area and the kind of confident brake performance you expect in a performance vehicle. None of the competing vehicles offer this kind of option from the factory.
As a modern top trim vehicle, the Tahoe RST includes all the safety gear you can think of. It's got automatic this and adaptive that – the Tahoe will do its best to keep you out of trouble. You can read all about it at the Chevrolet site. The safety feature I want to call to your attention is the four-wheel-drive system. If you live anywhere there's winter weather, this is a big advantage. Chevrolet offers a traditional dual-range 4X4 system on the Tahoe, but with an additional Automatic setting that emulates the AWD systems you find on crossovers. You can set the Tahoe to Automatic and it will mainly be a rear-wheel-drive vehicle, but if wheel slip is detected it will engage the front wheels for additional traction. The best part is that you can set the system to Automatic and leave it there without worrying about wearing out your 4WD on dry roads.
Fuel economy on the Tahoe RST is better than you might expect – 14 MPG in the city and 22 MPG on the highway with an aggregate expected economy of about 17. That matches the real-world results we got around Dallas, Texas on flat roads. For comparison, the Sequoia returns 13/17, the Armada is rated at 14/19, and the Expedition with the V6 leads with 17/24 MPG.
Warranty
The 2018 Chevrolet Tahoe RST carries a basic factory warranty of three years or 36,000 miles plus a powertrain warranty of five years or 60,000 miles. This is identical among all competing vehicles. Overall quality on the Tahoe has been highly rated in recent years, with the 2017 Tahoe getting five out of five for performance and design and predicted reliability from J.D. Power, and four out of five for overall quality. Among all full-size SUVs, only the Expedition is ranked higher than the Tahoe by J.D. Power.
How DT would configure this car
There aren't a lot of choices to make when you're building out an RST. Those choices have already been made by the time you get to this trim level. So here's the thing. If you're already north of $70,000 with the Premier trim and RST special packages, there's no sense getting all stingy with the rest of the options.
With that in mind, we would definitely spring for the big brake kit, and for the optional Borla cat-back exhaust, which increases flow by 28 percent. Chevy doesn't claim a power boost from that option, but it should be good for a couple foot-pounds. $850 for the all-video digital gauge cluster with head-up display is a good purchase, too. That's tech that will keep your Tahoe current for years.
The only option package we might leave on the table is the Sun & Entertainment package, which is $2,885 for a sunroof and rear seat DVD player. If you don't have kids and you don't care about the sunroof, why bother?
If you omit the DVD player and sunroof package, you'll drive your Tahoe RST away for right around $75,000, which is about on par with the top tier of the competition. The Sequoia Platinum comes in at $68,530, or the Land Cruiser starts at $84,960. The Nissan Armada Platinum Reserve is only a little lower than the Toyota at $66,835. The Ford Expedition will set you back $78,620 without the rear seat entertainment system, and $80,615 with it.
Conclusion
The 2018 Chevrolet Tahoe RST is a credible contender among performance full-size SUVs. Fully configured, the price of this Chevy is bumping up against the GMC Yukon Denali with the same engine, transmission, and suspension package, so you can choose the brand you want without a big price difference.
The driving experience in the Tahoe RST is enjoyable, and it's got every bell and whistle you can get in a modern car. About the only thing you really can't get is a real color. The RST will be available in black, white, silver and gray, with blackout trim and wheels. If you really want to stand out, that's why they invented vinyl wrap jobs.
The bottom line on the Tahoe RST is that if you're looking for a performance-oriented full-size SUV with towing capacity, this is a great choice. Really, the Ford Expedition is the only truly competitive vehicle on all points. Give both of them a test drive and you'll know which one you prefer.